Tickets for Thunder in the Smokies
Tickets will be available online in 2021 and can always be purchased at the event. Due to COVID-19 all of our 2020 dates have been canceled.
Please join us for 2021 April 30-May 2, June 25-27 and September 10-12, 2021
To enjoy all the concerts, tour rides, bike games, bike show, vendors, and all of the exciting activities at our rallies you'll need to get a weekend pass. Either at the event or online. It's just $20 for a weekend pass AND the pass is all-inclusive for activities. Each pass is good for the entire weekend. At this time we only have the weekend pass however we are tossing around ideas for those who can only attend one day. See below for all of the benefits of getting your ticket online. You will like the perks!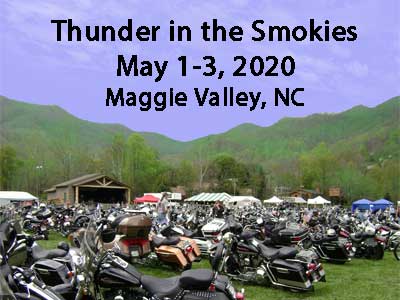 We regretfully announce the Spring May 1-3, 2020 Thunder in the Smokies Rally is canceled due to COVID-19.
We are Americans, we are strong, and we will get through this together. Thank you for all the support over the years.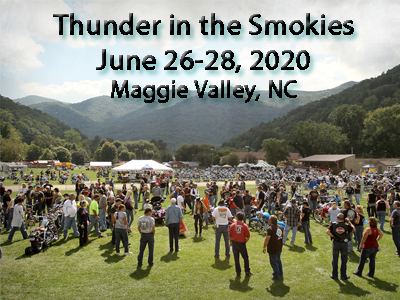 We regretfully announce the Summer June 26-28 Thunder in the Smokies Rally is canceled due to COVID-19.
Current State Regulations are preventing us from holding the June event. We sincerely thank you for all your support over the years and hope to see you soon. Until then ride free and safe.
Due to COVID-19 we regretfully have to cancel our September 11-13, 2020 Rally. Please join us in 2021. Current state guidelines prevent us from holding the rally. Please understand that we have put forth every effort to put on the show but we must abide by the state's regulations. 
We sincerely hope that you will join us in 2021. April 30-May 2,  June 25-27 and September 10-12, 2021. We appreciate your loyalty and support and cannot wait to see you in 2021.
Why Buy Online?
$12 in gifts and coupons ONLY WHEN YOU BUY ONLINE!
Receive $2 off ANY event shirt
FREE GIFT ($5 value): Choose between a Kickstand Pad or a Rally Towel
Get $5 off at Snappy's Italian Restaurant
Free Grab Bag with samples from Huff Oil Group and more!
It's convenient. Pick everything up at the rally
Simply print or save your ticket to your phone
Weekend passes include all 3 days, all activities and the nightly concerts!
FAQ's
Can I buy tickets at the event? Yes, however, coupons and free gifts are EXCLUSIVE to online purchases.
Tickets are for sale at the event and online for ages 16+, 15 and under are free.
Online ticket sales END at 11:45 PM EST the Thursday one week before each event.
NO Extra Fees when you buy online!
NOTHING IS MAILED TO YOU. It is held for you at the event. Bring your printed ticket or show your e-ticket at the event. We will give you the armbands, coupons and free gifts at that time. 
All sales are final. Sorry, but no refunds. This is a rain or shine event. All bikes and ages are welcome.
Do you sell day passes? At this time we offer weekend passes which allow you to enter and exit as much as you want.
Tickets can be purchased at the event, however, coupons and free gifts are exclusive to online purchases.
Online tickets can only be used one time. Once they are scanned they are done.
How do I pay? Cash at the event or pay online in advance using your credit or debit card.
Gifts, coupons, and incentives may change at any time and can vary from event to event.